SEO Tip #6 Content Audit Tutorial
Have you considered the old content you wrote years ago might be holding you back? It may be time to "pull the weeds" in your content garden by performing a content audit. Here's just some of the benefits:
Optimized Crawl Budget: Enhance the efficiency of search engine crawls.
Enhanced Niche Authority: Amplify your expertise in specific topics, bolstering your subject authority and relevance.
Elevated User Experience: Refine site navigation, making content discovery effortless and engaging for users.
Increased Revenue: Well-optimized content can lead to better organic traffic and, by extension, more revenue opportunities.
Competitive Advantage: Stand out from competitors by offering better, more relevant, and updated content.
Let's get started!
Build Your List
There's a lot of ways you could run a content audit, start with the oldest post and work your way forward, etc. In this guide I'm going to use Google Analytics to find opportunities for under-performing content.
My goal here is to view a list of URLs based on traffic for the last 12 months. I'll start at the bottom and work my way up taking action on URLs one at a time. Sometimes, I'll check a URL to make sure it doesn't have some ancient backlinks or social shares/pins that I need to preserve, that's a good idea if in doubt before taking action on the content.
For simplicity's sake, I'm just going to go to the Reports section in GA4, then Engagement > Landing Page.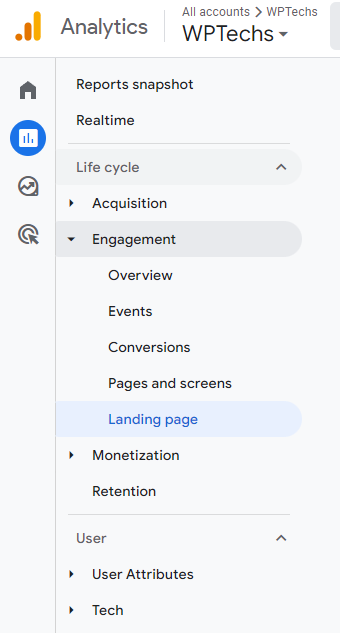 Next, in the top-right corner click the date and select "the last 12 months":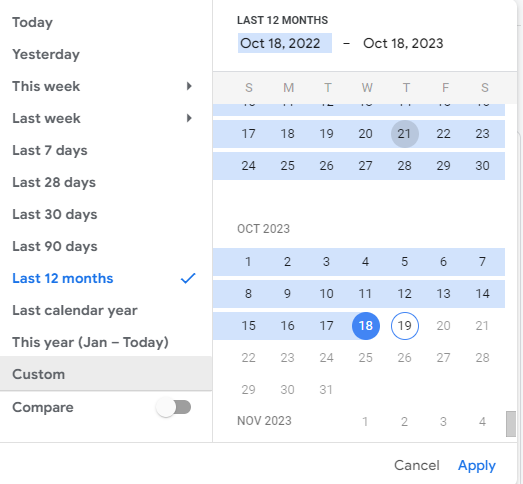 Now you should have a pretty decent list of URLs sorted by the amount of traffic they've gotten over the last 12-months, it's a "dumb list" for sure being so simple, but should be effective in helping you find the lower quality content! This report is nice because it's so simple to pull too, it filters out a *lot* of erroneous URLs that usually pollute generic reports like this.
Of course, this report will still have a bunch of erroneous entries at the back-end of the list, so you'll want to expand the number of items shown on the list to max (250) and then flip through the pages until you get to a point where it seems legit URLs stop and only erroneous URLs remain. This part varies wildly between sites depending on how much content you have and how busy the site is, so you'll need to just use your best judgement – you can start at the very end of the list and work your way up.
Analyze The List
Now that you have a list of posts sorted by how valuable they are in terms of traffic, it should be much easier to find the low quality content at the bottom of the list. There are some caveats to be aware of, mostly that this is a "dumb list". We simply pulled all urls for the last 12-months sorted by number of sessions. There will still be some junk urls to skip and of course the quirks of the list itself such as if you just published a new post last week then that post is probably going to show at the bottom of the list – which is why it's critical to spend time analyzing each URL before taking action.
This list is a simple tool, you have to work it to make it useful!
Take Action
We have three options on what action to take on a url we've identified as being low quality or under-performing. We can delete it, we can noindex it or we can set it as a draft to be republished at a later date. Which option is best? It depends on what you think of the content really, as all three options will have the same end-result on search engines (deindex the post).
Important Note: If you suspect the URL may have some old SEO value on it in the form of backlinks or social shares/pins, you will likely want to keep the URL online and accessible – in that case just set it to noindex. You can use Moz's Link Explorer tool to check backlinks (10 free scans per month, per account), and SharedCount is great for checking social share history on urls for free.
Noindex it
Often, under-performing posts are retained due to reasons beyond just traffic metrics. Some might have sentimental value, such as the first-ever post or a commemorative piece. There are also cases where content serves a specific audience segment or supports other marketing efforts but doesn't align with broader SEO goals. In situations like these, it's a good idea to consider setting the post as "noindex". This ensures that the content remains live on your site but is not indexed by search engines. If you're using the Yoast SEO plugin, you can easily set a post to noindex. In the post editor, navigate to the Yoast meta box, expand the "Advanced" tab, and adjust the dropdown for "allow search engines to show this post in search results".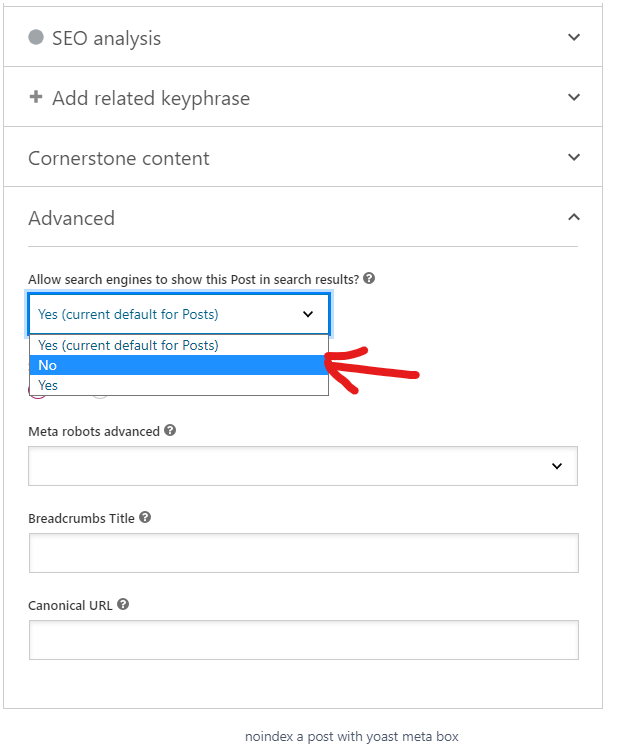 Delete it
While deletion is a very valid action to take, it's not always the first or best course of action. Many old posts may underperform in organic search due to outdated information or a lack of optimization rather than inherent poor quality. Some content, even if not drawing traffic, might also hold SEO value due to backlinks, social shares, or relevance to a specific audience. Only consider deletion if the content truly lacks value across all these parameters. Otherwise, updating, optimizing, or repurposing/republishing might be more beneficial approaches.
Draft it
You might have various reasons to retain a post in your wp-admin: maybe you envision republishing it in the future, or perhaps it contains valuable ideas you'd like to reference. Sometimes, it's merely a sentimental attachment. Converting a post to a draft effectively removes it from public view, while ensuring it remains in your admin area for any future needs. However, it's important to note that if you decide to republish the content on the same URL later, it might face challenges in regaining its previous rank since it was deindexed upon drafting. Always weigh the pros and cons before making your decision.
Follow Up
Once your content audit is complete you should make sure to check a 404 monitor to catch any accidental deletions. Redirection plugin has a fantastic 404 monitor built in, in addition to all its other amazing features (highly recommended for everyday redirection management). All the content you took action on in the audit shouldn't be getting much traffic, so you shouldn't see any big "404s" in the log, if you do – that's a big sign that something may have been done incorrectly!
FAQs
When I delete a post, should I set a redirect?
Typically, no. Redirecting to an unrelated page can confuse visitors seeking specific content. A 404 page, however, makes it clear that the content has been removed. To maintain a good user experience, ensure your 404 page has relevant links, a search box, and a personal message. Remember, posts you're considering for deletion likely have minimal traffic, and many hits could be from bots. Hence, there's minimal SEO value to preserve with a redirect.
Should I bulk delete many of my posts?
No. Each URL requires careful review, including assessing its content and analytics. Bulk deletions can inadvertently remove valuable posts, leading to confusion later on. As the site owner, it's crucial that you oversee this task to ensure its accuracy and thoroughness.
How much content can I remove at once?
It's not uncommon for a significant portion of content to be removed during a content audit. Ensure the content selected for removal is of lower quality. If done judiciously, this process generally supports improved site performance without major disruptions in search rankings.
Get this spring cleaning project done and you'll feel a lot better about your content, and reap the rewards!